St Austell Voice Newspaper Article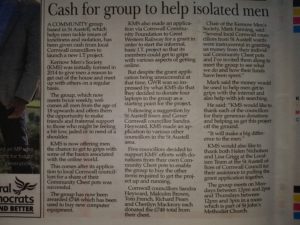 KMS are in the news with an article in the current edition of St Austell Voice.
The article is about our recent successful grant application to Cornwall Council via the local councillors' Community Chest Pot. We received a grand total of £748 from 5 local councillors which is being put to good use within the group.
We'd like to again thank Councillors Sandra Heyward, Malcolm Brown, Tom French, Richard Pears and Cherilyn Mackrory for allocating funds from their pots plus of course Helen Nicholson and Lisa Grigg at the council for pulling it all together.
Please follow and like us: