St Austell Swap Shop
After an excellent group meeting on Thursday, attending members then visited St Austell Swap Shop along with Rhisiart Tal-E-Bot from the Swap Shop and then accepted an invitation from Rhisiart for the group to use their upstairs meeting room for our Monday lunchtime sessions for the foreseeable future.
The Swap Shop is centrally located in St Austell town centre (see yellow highlighter in image below) and the meeting room will be available to us between 12pm and 2pm each Monday lunchtime so we'd like to invite all members, current and prospective, to come along for a cuppa and a chat.
We at Kernow men's Society would like to offer our sincere thanks to Rhisiart and the Swap Shop for the kind offer of the use of their premises for our meetings.
St Austell Swap Shop location: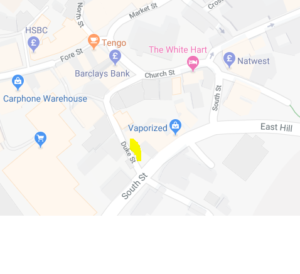 Please follow and like us: